Enduro Modular Vertical Gel System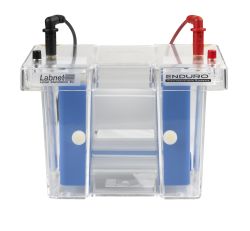 Advantages:
►Modular Design
►PAGE, Electroblotting and 2D Electrophoresis
►Quick and easy set up
►Wide range of accessories
►Accepts most precast gels, including Cambrex, Bio-Rad, Invitrogen, NuSep
Click to enlarge image
Enduro Vertical PAGE System is modular - allowing PAGE, electroblotting and 2D gel electrophoresis to be carried out in the same tank, simply by changing the inserts. Users can purchase only the parts they need, or a complete combined system for a cost savings over buying all three systems separately. MODULAR SYSTEM - The modularity of the Enduro System is based on three operational inserts and a common buffer tank. All three inserts, PAGE, electroblotting and 2D electrophoresis, have their own electrode assembly that connects into the lid of the buffer tank.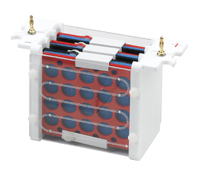 PAGE INSERT - Set up of gels is quick and easy with the PAGE insert. A set of plates are placed on either side of the insert and held into place by the pressure bar. An additional gel may be run on each side by stacking the plates. The assembly is then placed into the casting stand for pouring the gel. After the gel is polymerized, the insert is removed from the casting stand and placed in the buffer tank.

ELECTROBLOTTING INSERT - The electroblotting insert has a capacity for 3 gels. Setting up blots is easy - gels are sandwiched in the blotting cassettes with the transfer membranes. The cassettes are then placed in the insert, which is in turn placed in the buffer tank. Coiled electrodes in the insert generate a high intensity current, allowing transfer to take place in about an hour.

2D ELECTROPHORESIS INSERT - This insert is used for running the first dimension of IEF gels. Up to ten 8 cm gels are poured in disposable capillary tubes and placed in this insert. Gasketed ports allow for easy insertion and removal of tubes. Blocking plugs are included for closing off ports that are not in use.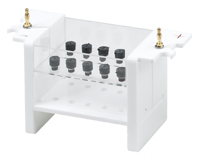 BUILT FOR SAFETY AND ENDURANCE - For leakproof performance and a long service life, the buffer tank is molded from high quality acrylic. Pins on the top of the inserts ensure that the lid is placed onto the insert in the proper orientation. These pins also aid in removal of the lid. Removing the lid disconnects power to the electrodes.

ACCEPTS MOST PRE-CAST GELS - Most precast gels, including NuSep", Bio-Rad", Invitrogen" and Cambrex" can be used with the Enduro PAGE System. The use of precast gels saves time by eliminating the need to pour gels and wait while they polymerize.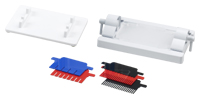 WIDE RANGE OF ACCESSORIES - A variety of combs and spacers of varying widths are available to customize your Enduro system. All are color coded and clearly marked for easy identification. Both notched and plain plates can be purchased with spacers permanently bound for easy set up. Additional fiber pads and replacement cassettes are also available as well as capillary tubes, blanking ports and tube supports. Cooling packs are also available to help reduce buffer temperature during higher voltage or longer runs.




To get technical specification and ordering information click here:



send mail to webmaster@gentaur.com with questions or comments about this web site.
Copyright © 2008 Gentaur Molecular Products
Site powered by Acid Dragon (AC)
Last modified: 05/19/16