Z 150 A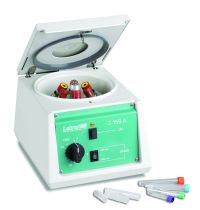 Advantages:

dual speed:3 500 rpm/1 137 xg and 5 800 rpm/3 120 xg
Maximum capacity 6 x 15 ml
Adapters available for all common blood draw tubes
Compact design
Lid lock system for safety


Click to enlarge image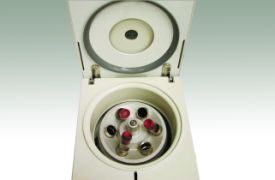 Designed primarly for blood separations, the Z 150 A accepts 10 or 15 ml tubes cirectly and all common blood draw tubes with adapters .
Two speeds are preset for convenient plasma for coagulation studies (high speed) and platelet rich plasma for agglutination studies (low speed0. The centrifuge is also useful for preparations of chemistry analyte samples, urine sedimentation, pelleting of cultures, pelleting genomic DNA and a variety of other applications.

The Z 150 A features a molded housing that is rugged and easy to clean. the 6x 15 rotor is supplied as standard. operation of the centrifuge is controlled by aa 15 minute timer.

At just 8.6 inches wide, the Z 150 A requires a minimal amount of benchspace. economically priced , it is a valuable addition to the clinical lab as well as being a good general purpose centrifuge.

send mail to webmaster@gentaur.com with questions or comments about this web site.
Copyright © 2008 Gentaur Molecular Products
Site powered by Acid Dragon (AC)
Last modified: 05/19/16