Also called: Apoptosis Inhibitor 4 or API4 Price: 655 Euro

human Total Survivin Colorimetric (EIA) Kit
Assay Format
Catalog #

Kit Insert

MSDS

Assay Layout

total: 96 Well Kit
900-111

Product Features | Significance and Uses | Typical Standard Curves | Assay Procedure |
Performance Specs | Cross Reactivities | Related Products

FOR RESEARCH PURPOSES ONLY, NOT FOR DIAGNOSTIC USE.


Survivin poster presented at M.D. Anderson Cancer Center Tumor Markers Conference, 2003... learn more>>
Survivin Range: 31.25-1,000 pg/mL
Survivin Sensitivity: 3.6 pg/mL
Stable, Color-Coded Liquid Reagents





Survivin, a new inhibitor of apoptosis (IAP) protein, is expressed in the G2/M phase of the cell cycle in a cycle-regulated manner. At the beginning of mitosis, Survivin associates with the microtubules of the mitotic spindle in a specific and saturable reaction that is regulated by microtubule dynamics. Disruption of survivin-microtubule interactions results in loss of Survivin's anti-apoptosis function and increased caspase-3 activity, a mechanism involved in cell death, during mitosis. It indicates that Survivin may counteract a default induction of apoptosis in G2/M phase. The over expression of Survivin in cancer may overcome this apoptotic checkpoint and favor aberrant progression of transformed cells through mitosis.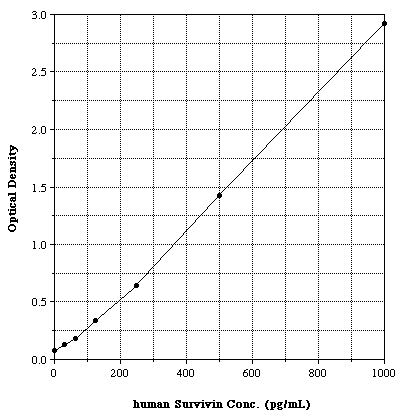 1. Pipet Standards and Samples in duplicate into the wells and incubate.
2. Aspirate and wash the plate.
3. Pipet the yellow Antibody into the wells and incubate.
4. Aspirate and wash the plate.
5. Pipet the blue Conjugate into the wells and incubtate.
6. Aspirate and wash the plate.
7. Pipet Substrate into the wells and incubate.
8. Pipet Stop solution and read plate on a plate reader at 450nm.
9. Calculate sample concentrations from the Standard Curve.



human Total Survivin (900-111)

RANGE

31.25-1,000 pg/mL

SAMPLE SIZE

100 µL

SAMPLES PER 96 WELL KIT

38 in duplicate

SENSITIVITY

3.6 pg/mL

PRECISION

1.3-2.4% Intra
5.9-17.5% Inter

SAMPLE TYPE
recommended dilution

Tissue Culture Media (none)
Cell Lysates ( 1:80)
Serum ( 1:2)
Plasma (Heparin) ( 1:4)
Urine ( 1:2)


SPECIES SPECIFICITY

human


Compound
Cross Reactivity
Compound
Cross Reactivity
total Survivin
100%
pJNK
<0.1%
<0.1%: human MEK 1, pJNK, p300, Granzyme B, Caspase-3 or Caspase-9.
We are currently evaluating cross-reactivities of rat and mouse Survivin in this kit. Please contact us for suitability of applications to these sample types.



send mail to webmaster@gentaur.com with questions or comments about this web site.
Copyright © 2008 Gentaur Molecular Products
Site powered by Acid Dragon (AC)
Last modified: 05/19/16