100 Place Styrofoam Freezer Box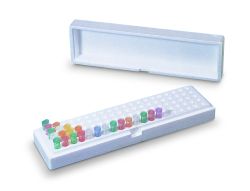 Advantages :
Recyclable, expanded polystyrene construction
Finger notch in lid provides for easy opening
Alphanumerically labeled for fast and easy identification of samples
Large capacity - holds 100 x 1.5/2.0ml tubes - 5 rows of 20
Perfect for working stocks and samples frequently removed from the freezer
Click to enlarge image
Made from recyclable, expanded polystyrene, this box is ideal for freezer storage of enzymes and other delicate samples. alphanumerically labeled, it will hold one hundred 1,5/2,0 ml tubes. A finger notch on the side aids in opening the box. Measures 340 x 97 x 64 mm.