Power Supplies

OmniPAC MAXI Programmable Power Supplies are high performance, easy to operate instruments, which can handle virtually any application from high voltage electrophoresis to high current blotting. Offering both graphic and text displays, omniPAC MAXis are completely programmable with self prompting menus and multiple operation modes.
Versatile: three models are available offering maximum output capability from 500V to 2000V, 400mA to 2A and 200 watts. These units are suitable for running multiple SDS gels, blotting and large submarine gels.
Fully Programmable: system parameter entry is via the membrane keypad and the start key. They can be programmed to recall and run constant or multi-step electrophoresis in a variety of operational modes : 1. Constant operation with timer - program constant voltage, current or wattage with timer to eliminate the possibility of over running samples in gels. 2. Memory mode - Store 16 files to recall and re-run favorite multi step programmes.
Display: omniPAC MAXi power supplies have large, 128 x 64 dot matrix display screens allowing both graphic and text vizualisation.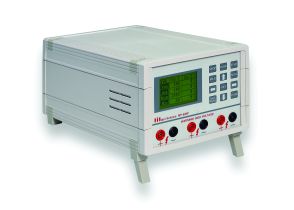 Advantages:
►High performance, easy to operate
►Graphic and text displays
►Completely programmable
►Programme constant voltage and current
►Memory mode- Stores 16 files to recall and re-run
►Safety- Comply to all relevant safety standards
Set parameters will be displayed continuously compared with actual run conditions. This can be viewed by touching 'select display' key.
Safety: omniPAC MAXi models meet all relevant safety standards to protect both the operator and the instrument. The alarm will sound in event of ground leakage, no load or overload.
OmniPAC MIDI
• Programme constant voltage and current
• Alarm can be set at the end of the program
• Auto cut-off function
These inexpensive, compact omniPAC MIDI power supplies are ideal for routine horizontal and mini vertical electrophoresis. Microprocessor control allows user programming, of up to ten programs, and can be set-up to run in constant voltage and constant current modes. Two gel chambers can be connected at any one time. An optional timer can be set to end the run and sound an alarm. Safety features include shrouded plugs and sockets, Mini MP-250 and MP-300 no load detection and ground leakage detection.
OmniPAC MINI
OmniPAC MINI power supplies have been developed specifically for horizontal gel electrophoresis systems. These ultra compact power units with single outlets, are recognized as amongst the most compact and inexpensive power supplies currently available and are designed and constructed to the most rigorous safety standards.
Advances:
• Compact size
• Safety design: shrouded plug and socket; no load detection
• Constant Voltage
• Low cost and economical
To get technical specification and ordering information click here:
To see complete pricelist of Cleaver electrophoresis products click here:
Power Station Power Supplies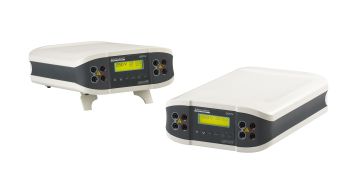 Advantages:
►Dependable performance, intelligent control
►Simple to program
►Constant voltage, current or wattage
►Compact, lightweight and stackable

Click to enlarge image
The Enduro Power Supplies are ideal for DNA, RNA and protein electrophoresis as well as blotting. They provide a high degree of sophistication and versatility yet are extremely easy to use. Two models are available to meet a variety of needs.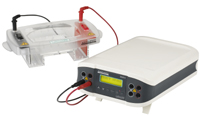 Operating choices for the power supplies include constant voltage, constant amperage or constant wattage(250V model only) and timed or continuous operation. All operating parameters are set using the membrane keypad and displayed digitally on the backlit LCD. Safety features incorporated into the systems include automatic crossover, no load detection, sudden load change and over voltage protection. The units can also be programmed to restart in the event of a power disruption.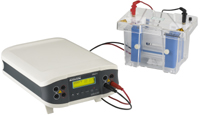 The Enduro 250V features a voltage range from 5 to 250V in 1V increments. Current is adjustable in 0.01A steps to a maximum of 3A. Wattage is adjustable in 1W steps up to 300W. The voltage range of the Enduro 300V is from 2 to 300 V in 1V increments. The current is adjustable from 4 to 500mA in 1mA steps.
To get technical specification and ordering information click here: