Orbit Digital Microtube and Microplate Shakers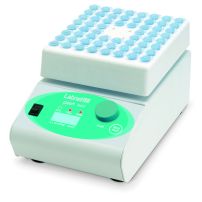 Advantages :
Large capacity - process 60 microtubes or 4 microplates
Sturdy, compact construction
Suitable for cold room or incubator use
3 mm orbit for resuspending, homogenizing or vortexing
Large digital display with single knob control





Click to enlarge image


The smallest of the Orbit digital shakers, the M60, P2 and P4 feature variable speed across a broad range, making them useful for a variety of applications. Both time of operation and shaker speed are set and displayed digitally, with their values shown on the large 3 digit LED. Parameters are selected with an easy turn knob. A sturdy base encloses the motor for quiet, vibration free operation. All three models can be used in temperature controlled environments. Their compact size makes them ideal for incubator use.

Orbit M60
Despite its small size, the Orbit M60 can process up to 60 microtubes at one time. The platform is removable to function as a transfer rack or workstation. 1.5/2.0 ml tubes are accommodated directly while smaller tubes can be used with adapters, sold separately.




Orbit P2 and Orbit P4
These vortexers accept all sizes of standard microplates, including deep well plates. Retaining springs on the contoured steel platform hold samples in place. The Orbit P2 holds two microplates while the Orbit P4 holds four.


To get technical specification and ordering information click here:
Digital Shakers.pdf
send mail to webmaster@gentaur.com with questions or comments about this web site.
Copyright © 2008 Gentaur Molecular Products
Site powered by Acid Dragon (AC)
Last modified: 05/19/16