Orbit 1900 Heavy Duty Shaker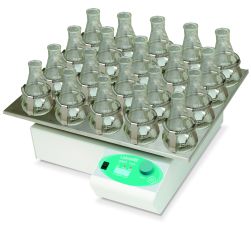 Advantages :
Four available platform configurations
Midrange orbit for excellent culture aeration
Compact construction for incubator use
Solid and heavy duty
19 mm orbit for aeration of cultures and staining gels
Large digital display with single knob control
Safe for cold room or incubator use


Click to enlarge image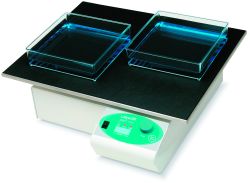 The Orbit 1900 is a large shaker designed for continuous duty and heavy loads. Its solid construction and counter balanced drive system provide vibration free operation
Operation of the shaker can be timed or continuous, while the speed is variable. Both time and speed are set digitally. Setting parameters is easy with the analog knob. Values are shown on the large, three digit display.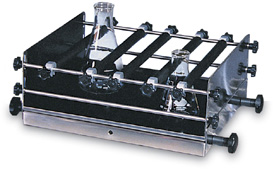 Three platforms are available to accommodate a variety of different sizes of containers and vials on the Orbit 1900 Shaker. The flat platform is useful for shaking trays, plates, boxes and other containers. A nonslip mat on the platform surface keeps items in place. Flasks are accommodated on the flask platform through the use of clamps (sold separately). Universal platform can be used with various size flasks, bottles and odd shaped vessels. Custom manufactured platforms/clamps are available. Suitable for use in an incubator or cold room, the Orbit 1900 Shaker fits easily inside .

To get technical specification and ordering information click here:
Digital Shakers.pdf
send mail to webmaster@gentaur.com with questions or comments about this web site.
Copyright © 2008 Gentaur Molecular Products
Site powered by Acid Dragon (AC)
Last modified: 05/19/16