Field Nitrate Test Kit (F-NTK)
Great for All Field Nitrate Testers
Easier to Use - Fewer Steps to Get Results

Reagents Now Combined so You do Fewer Transfers

Still Accurate, Reliable, Inexpensive and Safe

Self-contained Kit -- Everything Provided

F-NTK uses a Natural Process for Nitrate Testing!

F-NTK is a "Sustainable" Product for Nitrate Testing
Catalog No. F-NTK-101 and F-NTK-102
Portable Field Nitrate Test Kits

Semi-Quantitative Results - Accurate within 1 ppm NO3-N
No Equipment Needed -- All Reagents Provided
User Safe and Environmentally Friendly
Standard Range Field Nitrate Test Kit (F-NTK-101)
Measure 0.5 to 10 ppm Nitrate-N in Standard Range
Low Range Field Nitrate Test Kit (F-NTK-102)
Measure 0.05 to 1.0 ppm Nitrate-N in Low Range
Measure Both Nitrate and Nitrite with Same Kit
15 User Samples + 3 Nitrate Standards + Precision Color Chart
Small Sample Volume 1 drop or 0.05 ml (50 µl for Std) or 0.5 ml (Low Range)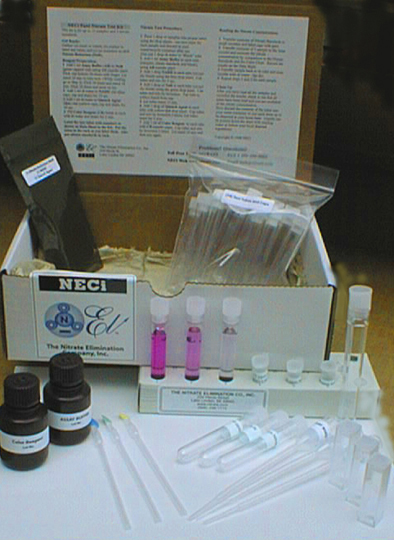 The Field Nitrate Test Kit showing Nitrate Test Standards.
F-NTK 101 provides the following Reagents and Tools:
Clear and Easy to Follow Instructions
Nitrate Reductase (NaR) - 1 tube in amber bag
NADH - 1 tube in amber bag
Assay Buffer (AB) in liquid form - one 30 ml tube
Color Reagent (CR) in solid form – one 60 ml amber bottle
Quench Agent (QA) - 1 tube in amber bag
Nitrate Standards in liquid form - 3 tubes
19 Plastic Test Tubes with caps - 15 samples, 3 standards, 1 blank
4 Small Pipets - 3 labeled with colored tags
3 Large Pipets
1 Test Tube Rack
1 Field Data Sheet
1 Color Chart - Standard Range (0.5 to 10 ppm Nitrate-N)
User Supplies Needed:
Watch, stopwatch or timer
Deionized or distilled water (di-water, nitrate-free)
Marker for labeling reaction tubes
15 small sample tubes (clean, nitrate-free)
On the day you are going to the field to measure nitrate, you prepare the reagents in 5 easy steps, which are clearly explained in the F-NTK instructions. You collect up to 15 samples in the field in your sample containers - use small containers since you need 1 ml or less. Next you do the nitrate tests in 4 easy steps, which takes less than 1 Hour to complete. Finally, you evaluate the results for your samples using the Nitrate Standards and the Color Chart and record the results on the Field Data Sheet provided. Nitrate content of samples are determined semi-quantitatively by the F-NTK with an accuracy within 1 ppm nitrate-N. Clean up is easy because all the reagents are non-hazardous chemicals. You can simply dump them down the drain (if your local regulations allow you to do so). You are exposed to no dangerous chemicals when using the NECi F-NTK and there is no significant damage to the environment when the reagents are spilled or disposed.