FEATURES
HIGH THROUGHPUT
PEbox can handle up to 104 samples
high throughput running.
SUPERIOR TEMPERATURE CONTROL
Separate magicooling pack is included
for decreasing Joule Heat and makes
the whole system ideal for quick screening.
PERFECT POWER SUPPLY AND TIMER TO MEET PERSONAL REQUIREMENT
Four voltages for selection and application : 50,100, 150, 200V.
Seven timing choices to suit personal research needs : 30, 45, 60, 75, 90, 120 min. & Free.
INNVOATIVE EPmaker HELPS AGAROSE PREPARATION MORE COSTEFFECTIVE
Spring Dam is specifically designed to help thrifty users prepare more economical
agarose gels for research applications.
Gel size
Wells/comb
6 X 11cm
6 X 13cm
11.5 X 12cm
12+18
Set : 1,2
Set : 1,2sheets
Set : 1,2,3 and 4sheets
12+26
Set : 1,2sheets
Set : 1,2,3 and 4sheets
18+12W
Set : 1,2
Set : 1,2sheets
Set : 1,2,3 and 4sheets

SPECIFICATION

| | |
| --- | --- |
| ITEMS | CODE NO. 0M0810 |
| Material | SBS & ABS resin |
| Cooling | By Magicool |
| Gel size | Max 11.5~12.0cm |
| Buffer volume | 350ml over |
| DC voltage | 50, 100, 150, 200V |
| Timer | 30, 45, 60, 75, 90, 120min & Free |
| Power source | AC 100V (50Hz/60Hz) |
| Electric power | Max 30W |
| Dimension | W21.4cm~D18.0cm~H9.3cm |
| Weight | 504g 842g(with Magicool) |
| Accessories | Tray for gel maker, comb, gelholder, anchor glass, instruction manual |
OPTIONS

Precast agarose gel : EP-agarose series

(1) EP-agarose DNA TBE series
Code No
EP-agarose
TBE Series
Products Name
Wells
Gel size (cm)
Density
(%)
Remarks
0M0936
12-0.8B
12
10.5 ~ 6.0
0.8
Type‡U
0M0938
12-2B
12
10.5 ~ 6.0
2
Type‡U
0M0939
12-3B
12
10.5 ~ 6.0
3
Type‡U
0M0964
18-0.8B
18
10.5 ~ 6.0
0.8
Type‡U
0M0965
18-2B
18
10.5 ~ 6.0
2
Type‡U
0M0967
18-3B
18
10.5 ~ 6.0
3
Type‡U
0M0950
26-0.8B
26
12.5 ~ 6.0
0.8
Type‡U
0M0952
26-2B
26
12.5 ~ 6.0
2
Type‡U
0M0953
26-3B
26
12.5 ~ 6.0
3
Type‡U
0M0945
12-2NSB
12
10.5 ~ 6.0
2
NuSieb/Seakem = 2/1
0M0946
12-3NSB
12
10.5 ~ 6.0
3
NuSieb/Seakem = 2/1
0M0968
18-2NSB
18
10.5 ~ 6.0
2
NuSieb/Seakem = 2/1
0M0969
18-3NSB
18
10.5 ~ 6.0
3
NuSieb/Seakem = 2/1
0M0959
26-2NSB
26
12.5 ~ 6.0
2
NuSieb/Seakem = 2/1
0M0960
26-3NSB
26
12.5 ~ 6.0
3
NuSieb/Seakem = 2/1
0M0940
12EB-0.8B
12
10.5 ~ 6.0
0.8
EtBr
0M0942
12EB-2B
12
10.5 ~ 6.0
2
EtBr
0M0943
12EB-3B
12
10.5 ~ 6.0
3
EtBr
0M0970
18EB-0.8B
18
10.5 ~ 6.0
0.8
EtBr
0M0971
18EB-2B
18
10.5 ~ 6.0
2
EtBr
0M0972
18EB-3B
18
10.5 ~ 6.0
3
EtBr
0M0954
26EB-0.8B
26
12.5 ~ 6.0
0.8
EtBr
0M0956
26EB-2B
26
12.5 ~ 6.0
2
EtBr
0M0957
26EB-3B
26
12.5 ~ 6.0
3
EtBr
0M0948
12EB-2NSB
12
10.5 ~ 6.0
2
NuSieb/Seakem = 2/1+ EtBr
0M0949
12EB-3NSB
12
12.5 ~ 6.0
3
NuSieb/Seakem = 2/1+ EtBr
0M0973
18EB-2NSB
18
10.5 ~ 6.0
2
NuSieb/Seakem = 2/1+ EtBr
0M0974
18EB-3NSB
18
10.5 ~ 6.0
3
NuSieb/Seakem = 2/1+ EtBr
0M0962
26EB-2NSB
26
12.5 ~ 6.0
2
NuSieb/Seakem = 2/1+ EtBr
0M0963
26EB-3NSB
26
12.5 ~ 6.0
3
NuSieb/Seakem = 2/1+ EtBr
Gel size Available to make both sizes(10.5~6.0 & 12.5~6.0)
Packing :6sheets/case
Expire: 1year

(2) EP-agarose DNA TAE series
Code No
EP-agarose
TAE Series
Products Name
Wells
Gel size (cm)
Density
(%)
Remarks
0M0902
12-0.8A
12
10.5 ~ 6.0
0.8
Type‡U
0M0911
12-2A
12
10.5 ~ 6.0
2
Type‡U
0M0912
12-3A
12
10.5 ~ 6.0
3
Type‡U
0M0975
18-0.8A
18
10.5 ~ 6.0
0.8
Type‡U
0M0976
18-2A
18
10.5 ~ 6.0
2
Type‡U
0M0977
18-3A
18
10.5 ~ 6.0
3
Type‡U
0M0903
26-0.8A
26
12.5 ~ 6.0
0.8
Type‡U
0M0924
26-2A
26
12.5 ~ 6.0
2
Type‡U
0M0925
26-3A
26
12.5 ~ 6.0
3
Type‡U
0M0918
12-2NSA
12
10.5 ~ 6.0
2
NuSieb/Seakem = 2/1
0M0919
12-3NSA
12
10.5 ~ 6.0
3
NuSieb/Seakem = 2/1
0M0978
18-2NSA
18
10.5 ~ 6.0
2
NuSieb/Seakem = 2/1
0M0979
18-3NSA
18
10.5 ~ 6.0
3
NuSieb/Seakem = 2/1
0M0931
26-2NSA
26
12.5 ~ 6.0
2
NuSieb/Seakem = 2/1
0M0932
26-3NSA
26
12.5 ~ 6.0
3
NuSieb/Seakem = 2/1
0M0913
12EB-0.8A
12
10.5 ~ 6.0
0.8
EtBr
0M0915
12EB-2A
12
10.5 ~ 6.0
2
EtBr
0M0916
12EB-3A
12
10.5 ~ 6.0
3
EtBr
0M0980
18EB-0.8A
18
10.5 ~ 6.0
0.8
EtBr
0M0981
18EB-2A
18
10.5 ~ 6.0
2
EtBr
0M0982
18EB-3A
18
10.5 ~ 6.0
3
EtBr
0M0926
26EB-0.8A
26
12.5 ~ 6.0
0.8
EtBr
0M0928
26EB-2A
26
12.5 ~ 6.0
2
EtBr
0M0929
26EB-3A
26
12.5 ~ 6.0
3
EtBr
0M0921
12EB-2NSA
12
10.5 ~ 6.0
2
NuSieb/Seakem = 2/1+ EtBr
0M0922
12EB-3NSA
12
12.5 ~ 6.0
3
NuSieb/Seakem = 2/1+ EtBr
0M0983
18EB-2NSA
18
10.5 ~ 6.0
2
NuSieb/Seakem = 2/1+ EtBr
0M0984
18EB-3NSA
18
10.5 ~ 6.0
3
NuSieb/Seakem = 2/1+ EtBr
0M0934
26EB-2NSA
26
12.5 ~ 6.0
2
NuSieb/Seakem = 2/1+ EtBr
0M0935
26EB-3NSA
26
12.5 ~ 6.0
3
NuSieb/Seakem = 2/1+ EtBr
Gel size Available to make both sizes(10.5~6.0 & 12.5~6.0)
Packing 6sheets/case
Expire /1year
Prepared buffer : EPbuffer series
Code No
Products
Package
Composition
pH
Expire
0M0302
EPbuffer TBE-5A
(~5)
1000ml
89mM Tris
89mM boric acid
2mM EDTA
8.3
RT/1year
Filter by 0.45ƒÊ
0M0312
EPbuffer TAE-81
(~50)
1000m
40mM Tris
20mM boric acid
1mM EDTA
8.1
RT/1year
Filter by 0.45ƒÊ

Accessories
Code No
Products
Package
Code No
Product name
Package
0M0811
Cover (with power unit)
1
0M0819
Gelholder 6~11cm
2/bag
0M0812
Box
1
0M0820
Gelholder 6~13cm
2/bag
0M0813
Tray for gel maker
1
0M0821
Gelholder 11.2~12cm
1/bag
0M0814
12+18comb
2/bag
0M0822
Magicool
1
0M0815
12+26comb
2/bag
0M0823
Anchor
10
0M0816
18+12Wcomb
2/bag
0M0824
Springdum
1
0M0817
EPmaker R
1set
Tray for gelmaker, gelholder 6~11cm/3, comb12+18wells/2, spring dam/1
090818
EPmaker L
1set
Tray for gelmaker, gelholder 6~11E6~13cm : 2, 11.5~12cm : 1, comb12+18/12+26/12w+18wells/2, spring dam/1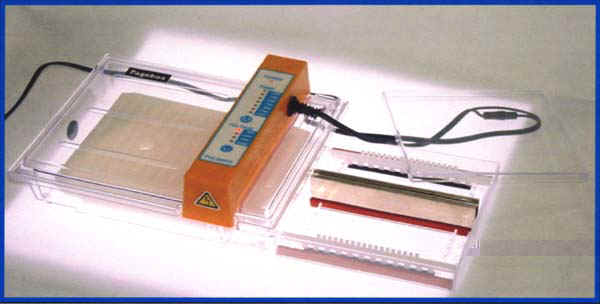 European Distributor : Gentaur BVBA