High sensitive fluorescence staining
Short and easy procedure which gives stronger fluorescence compared to FITC labelled antibodies or other Fluorescence techniques.
Fungiflora Y TM Kit contains:
Solution A: Haematoxilin as counterstaining solution Solution B: Fungiflora high sensitive dye as Fluorescence staining solution
References:
Inoue, T., Asari, S., Tahara, K., Kiritoshi, A., Inoue, Y. & Shimomura, Y. Utility of Fungiflora Y stain in rapid diagnosis of Acanthamoeba keratitis. Br. J. Ophthalmol. 83:632-633, 1999.
Key Words: Acanthamoeba, fungus, Fungiflora Y stain, Fungalase, Parker ink-potassium hydroxide stain, Fluorescence Microscope, FITC, ImmunoHistoWax
Direct microscopic examination of clinical materials is needed for rapid diagnosis of Acanthamoeba keratitis and keratomycosis in the region of ophthalmology, but complex skills are necessary to confirm the microorganisms. We compared the Fungiflora Y stain that can dye specifically Acanthamoeba cyst and fungi, with the rapid-GMS stain, Gram stain, Giemsa stain, methylen blue stain, direct wet mount non-stain, Parker ink stain, Fungalase and Parker ink-potassium hydroxide stain. We evaluated a simultaneous staining method for trophozoite, cyst and fungi, and the influence of potassium hydroxide against the morphologic change of Acanthamoeba.

1. The most useful staining method to confirm trophozoites was the methylen blue stain after trophozoites were fixed to the slide by the Schaudinn solution. Because this method is completed in a short time, it easily reveals the acanthopodia and cytoplasm.

2. The most useful staining method to confirm cysts and fungi was the Fungiflora Y stain because no complex skill is needed.

3. A combination method of methylen blue stain and the Fungiflora Y stain was useful for simultaneous staining to confirm trophozoites, cysts, and fungi after fixation using the Schaudinn solution.

4. The Parker ink-potassium hydroxide stain method was not suitable for detection trophozoite, because trophozoites were broken by potassium hydroxide.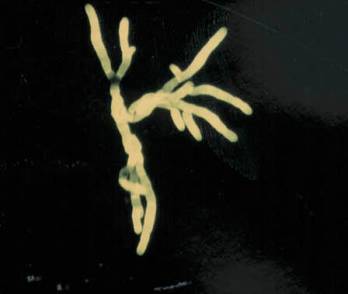 Pneumocentesis liquid, Fungiflora Y staining (Y. Higashiyama)