MitoPTTM Detection of Mitochondrial Permeability

Detection of the mitochondrial permeability transition event (PT) provides an early indication of the initiation of cellular apoptosis. This process is typically defined as a collapse in the electrochemical gradient across the mitochondrial membrane, as measured by the change in the membrane potential (DY).

Loss of mitochondrial DY, indicative of apoptosis, can be detected by a unique fluorescent cationic dye, 5,5',6,6'-tetrachloro-1,1',3,3'-tetraethyl-benzamidazolocarbo-
cyanin iodide, commonly known as JC-11. This dye has been incorporated into the user-friendly MitoPTT kit for the simple and reproducible detection of the PT event in apoptotic cells.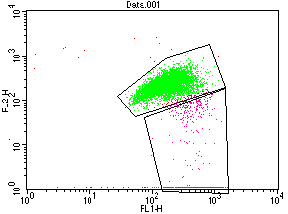 Figure 4: Negative cell control, Log FL1 (X-axis) and log FL2 (Y-axis)
R2 = 91.07% R3 = 8.08%.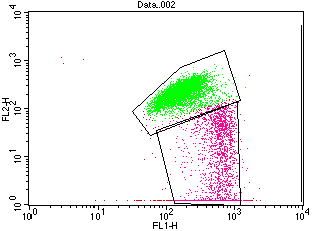 Figure 5: Positive cell control, Log FL1 (X-axis) and log FL2 (Y-axis)
R2 = 60.93% R3 = 38.13%.
In Figures 4 and 5, cells were analyzed in a Becton Dickinson FACSCaliber Flow Cytometer. Jurkat cells were treated with either DMSO (negative, non-induced cells) or with staurosporine (apoptotic, induced cells) for 3 hours at 377C, then labeled with MitoPTT for 15 minutes. Collapse of the mitochondrial DY is indicated by an increase in the number of cells falling into R3 corresponding to a loss of red fluorescence, indicative of the onset of apoptosis. (In these figures of flow cytometer data, non-apoptotic cells are in R2, which prints in green, and apoptotic cells are in R3, which prints in pink.)
Reference:
1. Smiley, S. T., Reers, M., Mottola-Hartshorn, C., Lin, M., Chen, A., Smith, T. W., Steele, G.D., and Chen, L. B. Intracellular heterogeneity in mitochondrial membrane potentials revealed by a J-aggregate forming lipophilic cation JC-1. Proc. Natl. Acad. Sci. USA 88: 3671-3675 (1991).