Capillary Blotters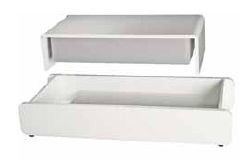 These Capillary Blotting systems offer a contained unit for southern and northern blotting. These units incorporate optimized permanent wicks which eliminate the requirement for overlapping wicks, offering greater consistency. The porous polyethylene platform draws up transfer buffer faster than traditional systems allowing for faster transfer times. Side by side transfer of multiple gels can be performed in a single set up. Available in 15 x 26cm and 28 x 26cm formats.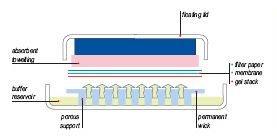 Principle:
Through capillary action, the buffer travels from the reservoir to the absorbent toweling via the porous supports, permanent wick, gel and membrane. This action optimizes the transfer of low and high Molecular Weight DNA/RNA from gel to membrane without mechanical damage to even the thinnest of gels.
Advantages:
► Permanent wick with optimized capillary action
► Efficient transfer of high and low M.Wt. fragments
► Fast, easy set-up
► DNA transfer in 2 hours or less; RNA transfer in 3 hours or less
► Floating lid ensures even pressure without gel compression
Dot and Slot blotters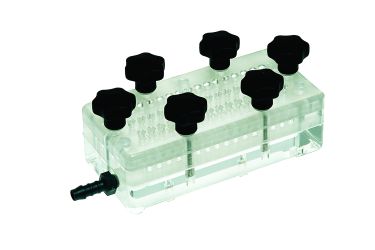 Four different sample number size and style of Hybridization Manifold are offered:- two types of dot blotter and two types of slot blotter. Typical applications include clone screening with DNA / RNA probes in Southern / Northern blots and immunological screening with antibodies in western blots. The units incorporate precision lapped surfaces to ensure uniform blotting membrane contact and a leak proof gasket. These prevent lateral transfer of samples – smudging – by ensuring that a complete vacuum is formed. Six thumbscrews ensure even and tight sealing for fast sample suck down. Dot blotters are available in 48 and 96 well versions and slot blotters in 24 and 48 well.
Advantages:
► Low cost
► Simple construction
► Easy assembly
► Four sample configurations
► Alpha-numeric sample identification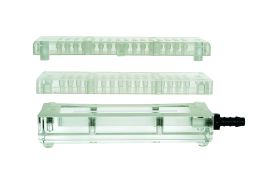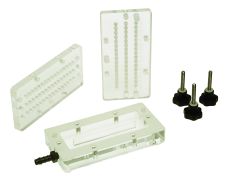 To get technical specification and ordering information click here:
To see complete pricelist of Cleaver electrophoresis products click here: