AccuBlock Digital Dry Baths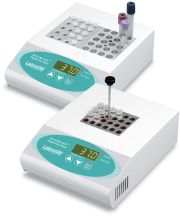 Advantages
Precise microprocessor control
Large digital display
Easy user calibration
Single and dual block models
Easy user calibration
Single and dual block models
Data-logging software available
Broad temperature range, to 150oC
Click to enlarge image
A broad temperature range, to 150ºC, makes Digital Dry Baths useful for a variety of applications in molecular biology, histology, clinical, environmental and industrial laboratories. Although the price of these baths is comparable to analog models, they feature microprocessor control and digital setting/display of temperature. Digital performance at analog prices.
A microprocessor regulates the high wattage heaters in the baths to provide precise, accurate control. The exact desired temperature is easily set using the arrow keys on the sloped control panel while values are shown on the large digital display. No checking of a thermometer and readjusting temperature is necessary. The user calibration feature allows for easy calibration to in house standards when required. Additionally, there an RS232 port for recording block temperature activity. An available data-logging software package is used to link the unit to a computer.
Dry Bath Blocks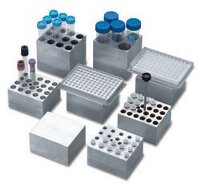 Designed for use with the Accublock digital Dry Baths, these blocks are supplied in a variety of different formats to accept tubes from 0.2 ml to 50 ml as well as microplates and slides. A solid block is also available for custom machining
The block chamber of the Digital Dry Baths is constructed of stainless steel, which acts as a heat sink and provides a uniform transfer of heat from the heating elements to the interchangeable blocks. The resulting block uniformity is excellent, ensuring that all samples receive the same temperature treatment, regardless of their position in the block. Annodizing adds corrosion resistance.
most blocks, except those designed for use with plates and slides , include a position for a thermometer and slides, include a position for a thermometer and a holef or use with the block lifter tool (supplied with the bath). The unique PopStopper accessory, solid separately, fits on the microtube blocks to keep tube lids from popping open during heating.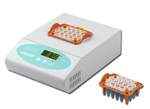 AccuRack
The new as capacity for up to 20 x 1.5mL tubes and is designed to work with Labnet's most popular accessory block, the D1105A. The rack is self standing for use as a workstation and can be directly loaded into the block for rapid tube placement and extraction. Insulated handles protect the user from the high block and sample temperatures. The AccuRack is safe for use up to 150°C and is autoclavable.
Single and dual block models Two Digital Dry Bath models are available. The single block unit will accept all of the standard blocks. For increased capacity, the dual block unit accepts two standard blocks or one specially designed dual block. Each Dry Bath is supplied with a block lifter. Blocks sold separately.
To get technical specification and ordering information click here: