50 Place Box with Telescoping Lid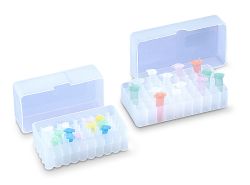 Advantages :
Telescoping lid accommodates tubes of varying lengths
Polypropylene construction withstands temperature extremes
Alphanumerically labeled lid for quick and easy sample identification
Available in 3 sizes: 50 x 0.5ml, 50 x 1.5/2.0ml and 50 x 5ml
Freezer storage rack and numeric ID grids available for 1.5ml
Click to enlarge image
Tubes of varying lengths are accommodated by the telescoping lids of these boxes. made of polypropylene, they can be used for freezer storage and autoclaved. Lids are alphanumerically labeled. Boxes hold 0,5 ml, 1,5/2,0 ml and 5 ml tubes as well as cryovials and chromatography vials. Freezer storage racks and numeric ID grids are available for the 1,5/2,0 ml boxes.
send mail to webmaster@gentaur.com with questions or comments about this web site.
Copyright © 2008 Gentaur Molecular Products
Site powered by Acid Dragon (AC)
Last modified: 05/19/16